Our Motto
Together with God, We Live, Learn & Love
The Diocesan Vision
That every child is cherished and encouraged, supported by God's love and Christian values.
Children's Vision
We hope that the Maelor Church Schools Federation is a place where:
Everyone is safe, secure and happy.
Every child is cared for and helped to succeed.
Everyone is welcome and feels part of the schools and Gods family.
Every child works, plays, shares and enjoys growing together.
Our Mission (Ethos) Statement
Recognising its historical foundation, the school will preserve and develop its religious character in accordance with the principles of the Church in Wales, and in partnership with the churches at parish and diocesan levels.
The school aims to serve the community by providing an education of the highest quality within the context of Christian belief and practice. It encourages an understanding of the meaning and significance of faith and promotes Christian values through the experience it offers to all its pupils.
This experience is planned to encourage pupils to develop positive attitudes towards learning so that each can reach his or her full potential. Opportunities are provided to develop self-discipline, respect for others and for property, an appreciation of the environment and the individual's responsibilities towards it.
In partnership with parents, the school instils respect for religious and moral values and tolerance of other races, religions and cultures. Pupils are encouraged to develop in confidence, to celebrate achievement and to take pride in their membership of the school community.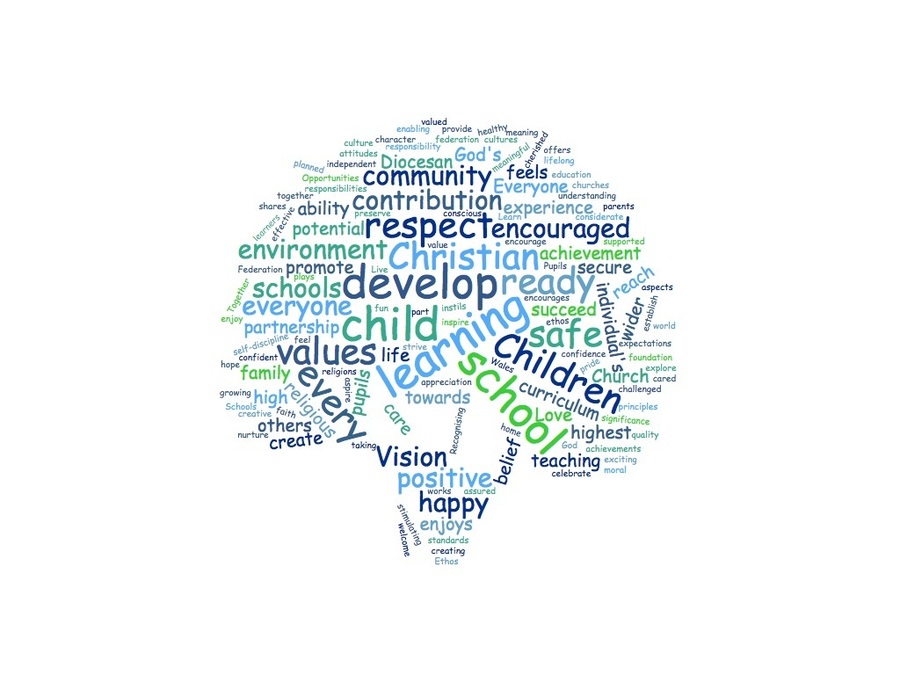 Headteacher's Vision
We aim to care for every child in every way. We aim to create within our Christian schools, a safe, secure and fun learning environment where every child feels happy and enjoys their learning. We strive to create schools where teaching and learning are challenged and raised, enabling all to succeed to the best of their ability; to make everyone feel valued as a member of the federation and that they have an important contribution to make.
Our Aims
To provide a safe, stimulating, healthy and happy environment in which all reach their full potential.
To establish an ethos of care and respect for everyone; conscious and considerate of the need and values of others.
To nurture and value each individual's achievements, ensuring that everyone assumes responsibility for their own actions and is prepared to make a positive contribution in life.
To promote belief in own ability, creating a 'can do' culture where risk taking is encouraged and where there is no fear of failure.
To inspire lifelong independent learners; confident and assured to explore the wider world.
To aspire to the highest possible standards of learning and teaching within an exciting, broad and creative curriculum.
To promote high expectations and enjoy high levels of achievement in all aspects of the curriculum and life of the school.
To fully develop effective and meaningful links with the home and make a positive contribution to the wider community.