Our Playgroup Childcare Inspection Report from CSSIW .
Our Playgroup Childcare Inspection Report from CSSIW .
13 February 2017 (by admin)
The latest CSSIW Inspection Report on Borderbrook Community Playgroup was published on 10th November 2016 and we are extremely proud of their assessment of our service.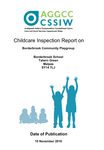 The overall assessment from the CSSIW inspection was:- "Borderbrook has many strengths, it is a fun and friendly place for the children to be. Children at the service are very happy and settled and as a result confident in their behaviour and in their interactions with practitioners and other adults. Practitioners have a very caring and highly relaxed approach which creates a calm and enjoyable service atmosphere for the children. The environment is suitable as children share the use of the school resources such as a woodland, pond and hard surface and grassed areas with large pieces of equipment. Leaders are well organised and documentation and records are effectively managed." There are many highlights: "Children are listened to very carefully and as a result they feel valued and safe" "They are very happy, busy and enjoy their play" All practitioners "...keep the children safe and healthy and respond to the individual needs of the children very successfully" "The environment is highly suitable for the children's play and learning" "The school premises are secure, well maintained and the children are safe" Leaders "...have exceptionally good relationships with parents and they work together with the service to ensure the children benefit from time spent there."